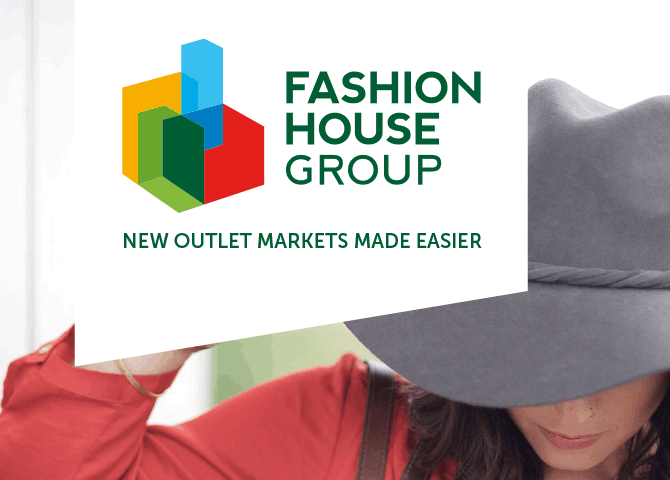 FASHION HOUSE Group – developer and operator of fashion outlets (UK)
A rebranding – the new logo was developed from a bold and surprising, albeit logical evolution of the old logomark.
The abstract form of rising geometric solids invokes associations with both developer and operator activity of the Group. It references spatial dimension, development and growth. The colorful and multipart construction of the mark reflects the wide spectrum and multiple directions of FH Group's activity.
Graphic motifs derived from the mark's structure form spectacular configurations to be used in layouts of publications and advertisements, while the color palette allows building navigation with use of the color code.
designed for headmade studio
LOGO CONCEPT INSPIRATION
old logo
shopping bags
retail space
---
Terra Brasilis – Brazilian culture foundation
The logomark uses in an authorial way the most Brazilian associations.
The likeness of a parrot has been merged with contours of Brazil and its flags colors. The pleasing graphic consists of overlaid soft shapes. The typefaced used, mimicking the style of amateur shop signs, surprisingly close resembles the writing of the famous mosaic from Rio De Janeiro.
LOGO CONCEPT INSPIRATION
colors of flag
shape of Brasil
Brasilian parrots
---
Mikavi – electronics brand
The Mikavi loso was meant to be simple and professional. Apple brand design was described as a reference
Following a suggestion from the client, we proposed an image resembling a bird silhouette. Additionaly we shaped it like a letter "M". It's minimal and modern, constructed precisely making use of the circumcircle of an equilateral triangle. It also bring to mind a drone and a prism.
LOGO CONCEPT INSPIRATION
drone
bird of prey
prism
---
Tres Magos – furniture for children
Tres Magos is Spanish for the Three Wise Men / Kings / Magi. The name, referencing the distinguished foreigners who visited Jesus after his birth, bearing gifts, was meant to represent a producer of smart furniture for children, designed according to the Montessori education method.
The logomark portrays both the Magi – as three colored silhouettes or wizard hats, as well as Kings – in the form of a crown, which symbolises also the highest quality of products. The pleasent colors, rounded corners and use of basic shapes, signals the children's theme.
LOGO CONCEPT INSPIRATION
crown
Three Kings/Mages
mage's hat
---
The Shape Manufacture – ceramics atelier
The logo design for the ceramics atelier had to be a simple and one-color symbol, allowing it to be embossed in clay. The owner wished also for it to have a friendly and carefree spirit.
Her answer to a aptly posed question lead us to the motif of a smiling sheep, characteristic of her work. I showed the sheep en face, instead of a profile, like she appears usually, and I gave her hooves gestures of creative activity. It accounted for a highly inviting, distinctive and memorable mascot logo in a form of a seal.
LOGO CONCEPT INSPIRATION
clay
sheep motif
pottery wheel
---
Imkerei Wojciechowski – apiary (Austria)
This contemporary geometric linear logo reinterprets in a fresh way symbols common in the apiculture trade.
The image of a bee emerges out of intersecting hexagons of a honeycomb. It creates a layout, whose aesthetic strength lies in the logic of construction. The logomark is complemented by the brand name written using an original angular typeface.
LOGO CONCEPT INSPIRATION
honeycomb
bee
precise geometry
---
PureRein – healthy food
PureRein is a producer and distributor of healthy food. Its founder, valuing the work of designers, like Polish logo design legend – Karol Śliwka – wished for a classically simple logomark.
The created graphic combines symbols of a fork and a flower, representing food, nature and happiness. The fitting font is rounded, organic-like.
Working with the PureRein brand consisted also of designing an extensive series of packaging with hand drawn illustrations of plants associated with the products.
LOGO CONCEPT INSPIRATION
food
flower
nature
---
ERGONINES – data centre
This minimalistic logo is full of adequate connotations. It references the appearance of a server rack and the number 9, associated with uptime statistics. The three white stripes can be read as the initial "E". The logomark hints also at the striped IBM wordmark, iconic for the technology industry, and a charge indicator. The simplicity relates to old mobile phone interfaces, as the provided insight pointed out that tech-savvy clients tend to use obsolete phones, valuing their reliability.
designed for headmade studio
LOGO CONCEPT INSPIRATION
server rack
battery indicator
IT industry
---
CST – training company
Symbolism of a chess knight is central to CST's strategy. It exemplifies dynamism and initiative.
Basing on these qualities and the target group (in part the automotive branch) I have referred in the lettering and composition to the aesthetics of sport cars emblems.
Over the course of many sketches, I have created a convincing, minimalistic silhouette. Rendered as negative space against a chess square, it creates a bold, cohesive and legible mark.
LOGO CONCEPT INSPIRATION
old logo
chess knight & field
sportscar emblems
---
Consumers Forum for Air Passenger Rights in Europe / Friendly Flying
Logo for this association portrays in a simple form an airplane in negative space inside a cloud. The cloud symbolizes potential problems, but here it is tamed and friendly.

The Consumers Forum for Air Passenger Rights in Europe aid passengers in dealing with all obstacles and unpleasantries that they may face while taking a flight.
LOGO CONCEPT INSPIRATION
dark clouds
plane flight
flower
---
Prophylaxis in Reproductive Health – medical symposium
Use of the standard motif of parents awaiting the birth of their child was a requirement. It bore a challenge: how to avoid a clichéd and overly illustrative logomark. A synthesized image in the form of two circles and a single fluid brush stroke seems to achieve that ambition.
LOGO CONCEPT INSPIRATION
pregnant couple
support
medical cross
---
Kokoons – an unique fashion brand
The concept of a "Kokoon" relies on wearing something profoundly comfortable and cozy, while also highly stylish. These handmade from local fabrics and available in limited editions clothes needed a simple and clever logotype.
I resolved to designing my own letters, including a conjoined double "O" ligature, whose form represents the "cuddling" nature that is the brands core idea. It also helps the logotype to achieve a balanced composition.
LOGO CONCEPT INSPIRATION
cocoon
cozy
comfy
---
The Country Development Foundation
The Country Development Foundation marking the 30th anniversary of their founding aimed to refresh their image, while retaining continuity with the organization's tradition.
Respecting the heritage and familiarity of the old logo we created the new logomark. It is much more readable and represents the NGO's area of activity better. In place of two cotagges, dynamicly arrising more stately buildings appeared. We got rid of unnecessary details, enlivened the color a bit and matched a more appealing typography.
LOGO CONCEPT INSPIRATION
old logo
development
crop fields
---
DOT – data safety consulting
The DOT company has a short and concise name. The logo was supposed to share these qualities. The preferred solution was to incorporate a graphic into the name.
I have "sealed" the letters with a strong lock symbol. An extension of this brand image is a pattern, where the lock secures data – the name of the company founder, written in binary.
LOGO CONCEPT INSPIRATION
lockpad
binary code
dot
---
Advecto – business partnership
This Polish-Brazilian company introduces businesses from Europe and South America with each other. Despite the international scope of services, the design brief advised avoiding imagery of a globe, as overused.
The chosen solution, has convinced the client, thanks to a strong concept, to break this presumption. The image of Earth has been reduced to a circle with two slices of continents, on which Advecto operates. Their shapes, directed at each other display the mutual rapprochement of the markets, as Advecto's services result.
Round and strong lettering was chosen, matching the logo and evoking trustworthiness.
LOGO CONCEPT INSPIRATION
introducing business
trade
worldwide
---
Converso – online marketing
The name Converso came from the word conversion. In this case: of negative ad results into positive and potential clients into actual clients.
"V" was made into an arrow, starting with a negative red color, bouncing back up into a positive green. The blue part of the symbol resembles at the same time a graph with statistics from eg. AdWords services.
LOGO CONCEPT INSPIRATION
stop/start
AdWords
statistics
---
Fizjokultura – physiotherapist
This physiotherapist's offer is aimed both at people with medical problems as well as healthy people, who want to improve their fitness.
Because of that, we have created a logo symbolising health and strength. The red part represents pain, which turns into soothing blue. The figure, which is holding up the wordmark with ease, got a modern, 3d look (in low-poly style).
LOGO CONCEPT INSPIRATION
pain
relief
strength
---
Academic Swimming Championship
An exceptionally hasty job (2 days!). The assigned concept was to fuse a swimmer and a shark. It sounded extremely risky from a design point of view, but after some trial I have managed to come up with a slick and classic looking solution.
Minimal number of colors was to be used. I certainly have achieved that, using just the Academic Sports Union's default green. The angular oval shape dynamises the composition and neatly encloses the water and air spaces.
LOGO CONCEPT INSPIRATION
shark
water surface
swimmer
---
KIK – Catholic Intelligentsia Club
The previous Catholic Intelligentsia Club logo needed to change. The Club's members were accustomed to it, but the typography was making it hard for other people to decipher the name.
I became a finalist in a closed contest (ultimately unresolved). My logo form keeps the distinct symbol of a cross in the letter "k", while making the letters clearer. The lettering has elegant roots in classic typefaces.
contest entry | finalist
LOGO CONCEPT INSPIRATION
old logo
cross
community
---
Modlin Airport
The power of this clean graphic mark comes from avoiding literality, while maintaining a broad set of fitting connotations. Among them: the act of rising from the ground into the skies, a propeller, wings, etc. The shape also references the form of Modlin Airport's terminals. This brand identity certainly makes an impression of "lightness".
designed for headmade studio
LOGO CONCEPT INSPIRATION
ascending into sky
dragonfly wings
plane propeller
---
Resilia – resilience consulting
The logo for the Resilia company, that provides company resilience improving services, was meant to represent such values as resistance, safety and reliability with an abstract graphic mark.
It was supposed to be an original symbol with a professional and trustworthy look, preferably possible to be rendered with one color only. All of these requirements were met by a geometric, octagonal logomark, referencing an armour plate or a boulder. The 3d-like effect, achieved with lines of different width is very uncommon and appealing.
LOGO CONCEPT INSPIRATION
armor
shell
shield
---
REDS – Railroad Eco Driving System
REDS is an innovative system allowing for analisys of train driving and developing the most economic driving methods.
The client opted at first for an abstract mark, but it became clear that it was to hard for them to incorporate a train image into the logo. I have simplified the illustration as much as possible into a swift shape of an rapidly approaching train. I chose a wide typeface for the wordmark to complete the modern look.
LOGO CONCEPT INSPIRATION
train
motion
green (contrasting "red")
---
Culinary Publishing House
The pictured logo, designed as an academic assignment, was an inspiration for the Archbook logomark. It features a similar construction, but building on another duality. A book + a cake.
academic assignment | Academy of Fine Arts in Warsaw
LOGO CONCEPT INSPIRATION
book
layered cake
cherry on top
---
The Three Sisters – theatre play
This minimalistic composition rotates the number "three" to create the silhouettes of three women. The number's shape is a modified old typeface, matching the play's setting. The mark features a visual strength reminiscent of a poster.
academic project | Academy of Fine Arts in Warsaw
LOGO CONCEPT INSPIRATION
classic "3" digit
sisters' relationship
theatre play
---
Maróz – Meetings of Organisations Operating in Rural Areas
The Country Development Foundation needed a new logo for the event they have been organising for 15 years now.
A simple symbol of a village cottage defines the topic clearly. It has a shape of an upward arrow, communicating growth. The vertical division reinforce the mentioned direction and highlight the fact, that these are meeting of many various organisation leaders. They also resemble a wooden fence.
LOGO CONCEPT INSPIRATION
old logo
village cottage
progress
---
Art Line – international art-project (UE)
Art Line is an art-project managed in cooperation between five South Baltic countries and 14 partners.
Having that in mind, I have created a composition referencing the image of a paint can and the shape of Baltic Sea, rendered in pixels. This intricate origin resulted in a contemporary and unique design, recognised in the international competition.
contest entry | 2nd place
LOGO CONCEPT INSPIRATION
modern art
paint splash
Baltic Sea shape
---
pomagam.info – charity information portal
The illustrative element in this logo design portrays the impact of a single persons effort for the good. The fully customised typography communicates positive emotions associated with sharing.
LOGO CONCEPT INSPIRATION
flower
heart
helping
---
State of the Polish Penitentiary System – national scientific conference
Prison bars are the most broadly understandable motif for this subject. Nevertheless modern penology is not about "dungeons and chains", so we gave the logomark a more abstract form.
In the negative space between the squares the image of prison bars becomes present. The squares alone can symbolise jail cells, order or an alarm panel. The mark has a concise, rhythmical construction. It is simple and easily memorable.
LOGO CONCEPT INSPIRATION
old logo
rozwój, rozbudowa
pola uprawne
TV Tenis – online sports television
The logomark depicts a tennis court shown in perspective – as commonly displayed during tennis match broadcast. The aforementioned view, due to its prevalence and familiarity, in a natural way raises as an iconic element of this sport. The clean and compact form, horizontal layout and explicit lettering make the logo highly suitable for its intended use.
LOGO CONCEPT INSPIRATION
pociąg
ruch, pęd
zieleń (kontrast "red")
---
ArchBook – online architecture bookstore
This logo design combines the simplified forms of a book and a modernist building. The chosen typeface, classic Helvetica, is clear and clean – like the online stores layout. Part of the corporate identity is a favicon and a set of pixelated icons.
LOGO CONCEPT INSPIRATION
pociąg
ruch, pęd
zieleń (kontrast "red")
---
Gorzów Philharmonic
A sleek FG monogram, created by dividing a treble clef. The partition allows for animating the elements and using them in various graphic compositions.
contest entry
LOGO CONCEPT INSPIRATION
stare logo
rozwój, rozbudowa
pola uprawne
---
The Laboratory of Paratheatrical Activities
This cultural animation initiative. concerning the first ever art performance in Pruszków, was in need of an identifying symbol.
Confronted by such a subject, I used analogue drawing tools, instead of constructing a geometrical mark. It helped to emphasize the two elements of this logo concept: the presence of a human figure and an atom full of energy (referencing the name "Laboratory").
LOGO CONCEPT INSPIRATION
pociąg
ruch, pęd
zieleń (kontrast "red")
---
The Praga Factory – residential-retail complex
The former area of the Schicht cosmetics factory in the Warsaw Prague district was chosen as the location of a new residential-retail investment, in a retro industrial style.
For this project I have spent much time researching the graphic design and most of all typography of the 30's. I have recreated numerous typefaces of the époque, for a stylish and authentic impression. Unfortunately the client settled on a much less polished design from another agency, along with the "Bohema" name.
tender proposition | designed for PRS agency
LOGO CONCEPT INSPIRATION
pociąg
ruch, pęd
zieleń (kontrast "red")
---
Polnord – developer
I have designed a new wordmark for the developer with the biggest capital on the polish market. The typeface I picked met the expectations of a more friendly brand image.
I have also advised on the update of the logomark, but eventually it has remained as redesigned by Zjednoczenie agency, closer to the old look (my version displayed).
---
AVIVA Wellbeing – benefits programme for Aviva employees
Aviva host many initiatives concerning employee care. The client wanted communicate this very clearly with the graphic symbol and I made efforts so that it would be also original and appealing.
To achieve this I have combined the popular motives of a human figure and a star. Subsequently I have enlivened it with a modern form and a slight perspective. Additionally, the open star takes shape of a "W", for "Wellbeing".
LOGO CONCEPT INSPIRATION
pociąg
ruch, pęd
zieleń (kontrast "red")
---
AVIVA: Explore it – internship programme in Aviva company
This logotype is an interesting example of text and graphics interacting. In a simple, yet clever, surprising and suitable way I managed to present the progamme's substance.
The visual pun of enlarging part of the company name with a magnifying glass, draws attention to the logo and is instantly understandable.
LOGO CONCEPT INSPIRATION
pociąg
ruch, pęd
zieleń (kontrast "red")
---
AVIVA TV – television for internal communication in Aviva
Company TV is not usually associated with high quality. We decided to change this, crafting a professional on-screen image.
The resulting dynamic logo, consisting of two interacting shapes with the name is appropriate for use on top of video materials. The shape on the right, enlivened with a gloss, represents a screen.
LOGO CONCEPT INSPIRATION
pociąg
ruch, pęd
zieleń (kontrast "red")
---
West Side – business center next to the West Railway Station in Warsaw
This big business center is a joint enterprise by developer HB Reavis and Polish Railways. It needed a serious image, on par with the investors brands.
I have constructed a simple visual identity, based on a legible logotype, complimented with slashes. They depict train tracks, dynamism, the west direction and profile of the building. All in an established navy blue color.
tender proposition | designed for PRS agency
LOGO CONCEPT INSPIRATION
pociąg
ruch, pęd
zieleń (kontrast "red")
---
Brand You – brand coaching
The logo design depicts the development of a "personal brand". On one hand it is a "sprouting" business. On the other, colorful feathers, which assist in being noticed. The repeat of shape in the graphic illustrates the gain that is: displaying your real potential thanks to the coaching effects.
LOGO CONCEPT INSPIRATION
pociąg
ruch, pęd
zieleń (kontrast "red")
---
Loft30 – an art gallery located in a loft space (New York, USA)
An unique logotype for a NY art gallery. Interweaves, using negative space, both parts of the name (fitting "3" with "F" oraz "zero" in "O").
In a synthesized way the logo design depicts the nature of the place. The sticking out "O" depicts the loft space and a framed art piece.
LOGO CONCEPT INSPIRATION
pociąg
ruch, pęd
zieleń (kontrast "red")